By PaxCanadiana
We don't need a self-promoting blowhard telling us how mediocre (Prime Minister) Justin Trudeau's cabinet is.  I think it does a pretty good job of speaking for itself.
BLACK AFRICAN (Somali-born), Muslim REFUGEE being sworn-in as Canada's IMMIGRATION MINISTER?!?

When you have a former ski instructor and substitute drama teacher of generational wealth possessing an undeserved sense of self-importance acting as the effective "leader" of your country what can you expect?
So… What is this guy's agenda??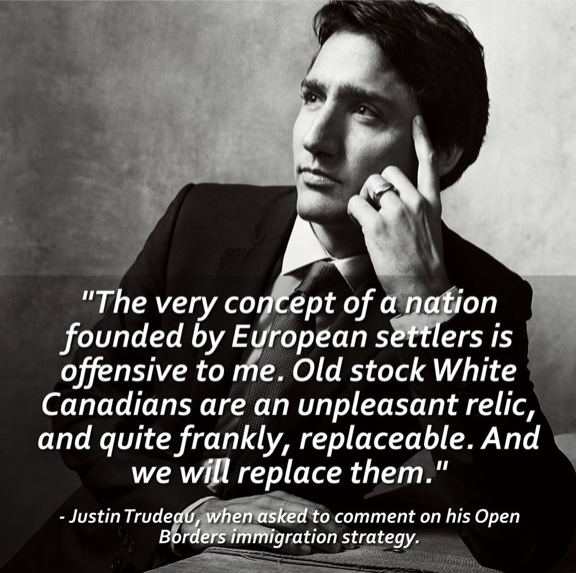 CANADA's Prime Minister – Justin Trudeau

… same agenda for White EUROPEANS in Europe.

We're not talking Winston Churchill here.  More like Kim Jong Un (North Korea) minus all that evil stuff.  However, it's worth noting his reason for saying it which is to pursue diversity for diversity sake, you sacrifice competency and inevitably quality, producing an inferior outcome to what you could have had. When diversity is your maxim you're practically capitulating to being second best almost all the time.
In fact, "diversity means second (or even last) place" is truer to reality than "diversity is our strength" which is more at home in ideological fantasy-land.
And I could stop there because I think it's so self-evident that diversity is mediocrity that elaboration is not needed.  I guess I could provide some examples.
New York state is planning on scrapping a literacy test it used to screen teachers because too many minorities — primarily blacks and Hispanics — were failing it.  This means the standards of the New York state education system will suffer as will the education of the pupils forced to be taught by unqualified teachers.  All for the sake of diversity.
Journalistic standards have been further diminished by the diversity agenda.  Ever cognizant of the effect their words may have on the minds of the reading public journalists have engaged in self-censorship and spin when reporting the news.  Objectivity and truth have given way to misinformation, half-truths, or just spiking a story if it doesn't conform to the "diversity is our strength" narrative.  This has created a demoralized journalistic class and the misleading of the public by contributing to its collective ignorance.
Diversity is such a strength for Canadian society unemployment is one its great gifts to the host WHITE majority.
Ottawa policing standards were given a brief relief of duty to hire an unqualified SOMALI immigrant. (… likely another fake "refugee" – Ed.)

[…]
Are we talking about racial diversity?  How is that our strength?  How does one's particular skin colour endow that person with unique skills and talents that that can't be replicated by others of a different racial composition?  How does one's skin colour bestow gifts unto the society they happen to inhabit?  If we're honest with ourselves, we can see that racial diversity is not our strength.  It's pursued more as a moral obligation if anything, while ignoring all of the undesirable social problems it creates.  Indeed, "racial diversity" is bullshit!    >>> con't to FULL REPORT.
Also read:
Canada's 1st Prime Minister WARNED Us
*****
Government Disloyal To OWN Citizens
Canadians Duped On Multiculturalism